Pastor Rich Aghahowa is a beloved son and protégé of Apostle Suleman. In 2012, he felt a need to wait on the lord, he traveled to Houston and checked into a hotel for 40days. There he began to pray and seek the face of God. In that hotel room, a hunger for God was born in him. After 40days he returned to New Jersey where he lived at the time. He returned to New Jersey with a passion to evangelize. He went preaching from street to street in one of America's worst neighbourhoods notorious for drug and gang-related crimes. This he did every week for many months with passion. Many souls were won. The accumulation of souls won prompted a need for a weekly prayer fellowship which then grew into a church. More about church
The Trip To Africa
In 2014, the Lord led him to go to Auchi in Edo state, Nigeria, where he met with his father, the chariot and horseman – Apostle Suleman. This singular encounter ushered the next phase of his ministry. This encounter is attributed as the turning point in his ministry. God's servant, Apostle Johnson Suleman was used by God to unveil the plans of God for him and the direction to go.
God's Work Over Career
Pastor Rich Aghahowa is a certified medical doctor but in June of 2015, Pastor Rich resigned from his medical career of 7yrs. He sold everything he could sell and relocated to Houston Texas and there he planted the Omega Fire Ministries on September 6th, 2015.
Success Story
OFM Houston has leapt into unprecedented growth in just 4 years of inception. In February 2019, by the Grace of God, OFM Houston bagged several outstanding awards including the first runner up of OFM church worldwide at the annual Ebenezer Program.
And on January 22nd 2022, for his dedication and excellence towards the work of God, Pastor Rich Aghahowa was rewarded with the position of the new Director of Media for Omega Fire Ministries worldwide.
CELEBRATION TV AMERICA: Aside from his pastoral office, pastor Rich is also a servant in ministry. He serves in media as a broadcast engineer in Celebration TV America. He is privileged to serve alongside his father, Apostle Suleman and has travelled to over 70 nations of the world broadcasting the crusades held by the God servant Apostle Suelman.
CELEBRATION TV PARTNERSHIP: Pastor Rich also serves as the partnership coordinator of Celebration TV Partnership. This partnership arm of the ministry is a platform where people around the world can connect with the Apostle Suleman Evangelistic mandate to preach the Gospel around the world through their resources.
Marital Status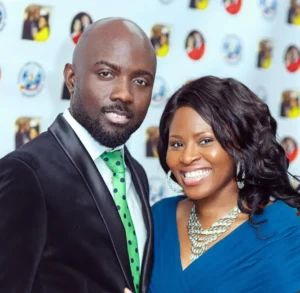 Pastor Rich is married to his beloved wife Pastor Stella, a dynamic woman of prayer, his helper and co-pilot in ministry and are celebrating 4 years of marriage, blessed with children.